Ian and I have really enjoyed the beautiful weather we have had over the past few days. It's just the perfect temperature...and we love sitting on our back porch reading books, etc.
2. Yummy dinner.
A couple nights ago, Ian decided to go to Publix to pick up something to make for dinner. He picked up some crab-stuffed tilapia, sugar snap peas, and spicy sweet potato fries. It was unbelievable. Unbelievable because #1, I didn't have to cook, and #2 I didn't have to cook. (haha)
3. Double date night.
Saturday night, Ian and I went with our friends Kate and Brett to a restaurant called the "Black Cow." It's been open for about a year now, but neither of us had been there until Saturday. I got the Artichoke Chicken, red mashed potatoes, and the pineapple casserole, which was UNBELIEVABLE. If you are from Columbus and haven't been there yet, go. Now. :)
4. Hipstamatic love.
I have recently fell back in love with the Hipstamatic app on my iPhone. I haven't used it in awhile...and decided to give it a try the other day, and I love it. There are so many different combinations of films, flashes, and lenses, the possibilities are endless. If you have an iPhone and don't have the infamous Hipstamatic, you should definitely give it a try! It's worth the $1.99. :)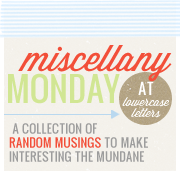 Don't forget to link up with Miscellany Monday today over at Carissa's! Have a

great

week!