1. New best friends.

Saturday when I got off work, my mom and grandmother took me shopping to spend some early birthday money. I got some real cute stuff...but my favorite purchase of the day were these amazing

cowboy

boots! I have been wanting some nice ones for awhile now, and couldn't resist them! I had it narrowed down to two pair and of course, since I'm the most

indecisive

person in the world, I couldn't decided and had to call my friend Terri for advice after sending her a couple pictures. I'm so glad I went with these! They are my new best friends. Oh, and those are my new "jeggings" too by the way. :)
2. Baby it's cold outside!

Finally! I cannot express how

glad

I am that the weather has finally cooled off! I'm so

excited

about long sleeve shirts, jackets, and scarves!
(via)
3. I. love. cupcakes.

How can you not love cupcakes? They are just plain cute. Someone brought us these adorable miniature

cupcakes

at work the other day, and I couldn't help but snap a few pictures of them. Oh, and they were yummy too! :)
4. I love

Hipstamatic

for iPhone. I know I've probably mentioned this before, but I really do. It's definitely one of my favorite photography apps for the iPhone. Here are a couple of recent shots: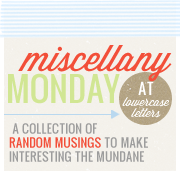 I hope you all have a

wonderful

week!