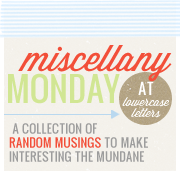 1. Cute pup.
Last week, I took my boss' son's dog home with me to snap a few pictures of her. She was so wild, haha, but I got several good pictures! Go check out the rest of them over at my photo blog. :)
2. Date night.
Saturday night, Ian and I went to Olive Garden for a date night. If you haven't had the Lasagna Rollata I highly recommend trying it! I'm convinced it's the cheesiest thing on the menu. Unbelievable.
3. I'm exhausted today.
I didn't sleep very well last night...so I'm hoping today goes by super fast so I can take a nap! Haha.
I hope you all have a wonderful Monday!