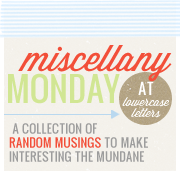 It's time for another Miscellany Monday!
1. Jacket weather.

There are no words to describe how excited I am that the air is cool...that the wind is blowing...that fall is in the air! I want to be outside every chance I get, and I am soooo enjoying using our awesome new patio furniture and adorable stained glass lanterns! Lilly is enjoying the beautiful weather too. Also, I think fall clothes are too adorable to speak of. :)
2. I cooked!

Yep. Last night, I cooked my first meal in our new home! I have told myself that I was going to start using my crockpot more...since I have one and everything...haha...so why not? Last night, I mixed some cream of mushroom soup with a packed of onion soup mix...and threw it in the crockpot with some chicken cutlets...and when it was done, served it over some garlic mashed potatoes. It was delicious! Now I know most of you are thinking, "seriously, that's it?" but I don't cook often so I have to start off slow. Haha. Regardless of the simplicity of the meal, Ian loved it...and that's all that matters. :)
3. Ready for a fence.

We have been in the house for a week and a couple days now...and someone is finally coming out today to measure our backyard for a fence! Hopefully but the end of this week, we will have a fence...and Lilly won't have to go out to go potty on a leash...which she will greatly appreciate!
4. House pictures.

I know you all want to see pictures of the house...so here's a few! Keep in mind...it still has some work to be done...and the other guest bedroom is not pictured because it's pretty much the junk room right now. Haha.
The outside...
Cute fall wreath on the door!
The kitchen...
Master bedroom...
Living room...
Patio furniture! Ian is putting together the table... :)
Thanks for listening to my ramblings! Now it's your turn to go link up over at Carissa's!