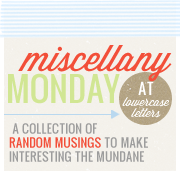 Oh the miscellany! So so much to talk about! Here it goes!
1. Blogapalooza!
This past Saturday Ian and some of his friends went to the Auburn football game...and while they were gone, me and one of the wives (Denise) had a girls day! We had a yummy lunch at Cheddar's, then picked up some adorable pumpkin cupcakes from a local bakery...
...followed by several episodes of Friends...pizza later on, and most importantly, BLOGAPALOOZA! "What does that mean?" you might ask. Recently, Denise has decided she wanted to start blogging, and she did a great job configuring her blog layout, etc, but she asked me if I would help spruce it up a little! Long story short, after much html, browsing for the perfect Shabby Blogs layout, and math, we completely changed the look of her blog! I hope you all will visit her blog and encourage her as she jumps headfirst into the blog community! :)
2. My dog is so silly.

Lilly has learned that if she jumps up onto the back of the couch, then she can look out the window and see the dogs across the street. I'll admit, I probably am the reason she realizes she can do this, because I sat her up there one day to keep her occupied while I was doing something else. Well yesterday, she decided to take her doggie up to the window with her. How cute is this?
3. I love MyChurch.

Yep. MyChurch is awesome! And yes, the name of the church is MyChurch. We are going through a series right now called MyTunes...where they are taking popular songs that we listen to and pulling truths from them. It's awesome!
4. Family, friends & Starbucks!
To pieces. Yep. Love love love them! We had the opportunity to hangout with some friends we don't get to see often the other night, and then met our parents at Starbucks for some coffee! How cute is my dad? Haha. Did I really just say that?
5. Haircut & color.

I finally was able to schedule myself another hair appointment the other day to have it cut and colored just a little darker for the fall. Yay!