It's that time again! Now before I go into all my ramblings...I just have to say, I really have enjoyed doing the weekly Miscellany Monday posts! It's definitely one of my favorite blog carnivals to participate in, because I can write about anything! Not that I can't write about anything any other day...but you know what I'm sayin'. :)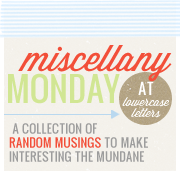 1. Talk about frustrating.
So we've been in our house for about a month now, and the city has YET to bring us a trash can. Well, until today that is. After Ian went down and set everything up with the city (water & trash pickup) we were told they would deliver a trash can to us within the week but we could use a temporary can until we received ours. My dad let us borrow one of his old trash cans to use for the time being. The first week wasn't a problem. They picked up our trash and everything, but still no can...so I called them. "We don't seem to have you in our system maam" they said. Huh? The lady then reassured me that she would get everything taken care of. Two more weeks go by, and still no trash can. So this morning, we sit our trash out like usual and because Ian has today off, he happened to watch the garbage truck drive by, and SKIP our house. What?! So he calls them and they say we aren't in the system. Now we are mad. I mean, we were mad before, but not like this. Ian called them and they said they would take care of it. And they did. Finally. We have a trash can now. No more garbage bags overflowing out of the tiny can, and no more dogs ripping the bags open. Whew...that was lengthy. :)
2. Let the payments begin.
I mailed off our first ever mortgage payment today. Weird. I mean, I still don't think it's hit me yet that we are home owners. We have our own beautiful house...OUR OWN! So cool.
3. Gardener eh?
Saturday, I had the day off work...so Ian and I went to Home Depot and decided to get some flowers. I wanted a cute little basket to hang from our back porch. I felt really stupid asking the lady, but I said, "I have a really stupid question. Do I just buy the flowers, and put them in this pot?" She then told me that I needed to buy a bag of potting soil (duh) as well. So I went home, realized I didn't have a little shovel (so I used a spoon from the kitchen...haha) and got to planting! And here is the result:
Yay! I love them. Now let's just hope I can keep them alive. :)
4. Did I mention I love MyChurch?
You might remember me saying our church is going through a series right now called MyTunes...where they take a secular songs and pull truths about God's Word from them. Last Sunday, they played Collective Soul "Shine".
Well yesterday morning, the band performed the song by Justin Timberlake and T.I. "Dead and Gone". It was awesome! My husband took some video of it and uploaded it to Facebook...so I'm not sure if you will be able to see it or not...but it's worth a try, so click HERE. Sorry if you can't see it...but take my word for it...it was awesome!
Now, don't forget to post your Miscellany Monday and link up over at Carissa's!